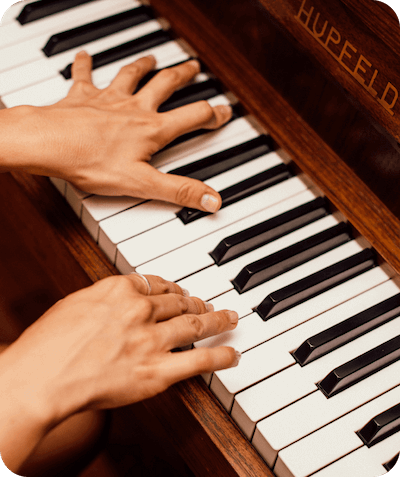 Piano Lessons in Fremont, CA
Our Approach
Piano Lessons for All Ages & Musical Styles
We believe every student is unique and different in their own way. Therefore, why should lessons be any different? Each piano lesson is tailored to the individual student's specific interests and needs.
While focusing on foundational elements such as proper technique, reading music, finger position and more. Our teachers also help students learn songs they are familiar with. This includes movie theme music, popular songs on the radio, their favorite classical artist etc. This helps keep students motivated and pushing further to learn each week.
The best part is, all of this takes place in your home, saving you tons of time!
Our Approach to Piano at Melody Academy of Music

Get Started
Piano Lessons Should Be Fun!
We know that an interest in piano may be what first brings you into our school – but having fun is what keeps you coming back! Here at Melody Academy of Music, our goal is for every student to LOVE their music lessons as they embark on a rewarding journey of progress and discovery. We put the "fun" in fundamentals!
Our knowledgeable staff blends a high standard of music education with a creative, student-focused approach that gives students space to discover and nurture their passion for music and the piano. Whether it's your first time at the keys or you're a seasoned pianist, our teachers are ready to help you progress quickly toward your goals – while having fun along the way.
We Emphasize Healthy Technique
Healthy technique is critical to lifelong enjoyment of the piano. Our first priority is teaching strong fundamentals, including hand, wrist and arm technique, bench position, and pedaling. We believe that full-body instruction is essential to musicianship and safeguards students from injury.
Once the fundamentals are in place, you and your teacher can craft the story you want your music to tell. Our qualified teachers will assist you in developing musicianship and exploring nuance through dynamics, pausing, phrasing, and varying tempos. Learn with us as we infuse elements of music theory and music history into our well-rounded approach to fostering musical excellence.
We Care About Your Musical Interests
There is no one-size-fits-all method of piano instruction. Regardless of ability or prior experience, our teachers take an individualized approach to each of our students – underpinned by detailed individual assessments, a personalized learning plan, and one-on-one guidance throughout your musical journey.
While fundamentals and technique are essential, our ultimate goal is to equip students to begin exploring their own personal musical style and interests. Your teacher will work with you to understand where you want to go, and craft a unique plan to get you there. Whether your style is classical or pop (or anything in between), Melody Academy of Music helps students excel in their craft while encouraging the occasional step outside the comfort zone to try something new.
We Offer Simple Pricing to Fit Your Schedule & Budget
Weekly Lessons
30 min
$215
per month
Great for learning the basics and building foundations.

Please note that trial lessons are $50 and only available for private lessons.
GET STARTED
Weekly Lessons
45 min
$310
per month
Great for the budding master.
GET STARTED
Weekly Lessons
60 min
$400
per month
Longer sessions, great for motivated musicians.
GET STARTED
"My older child has been with Melody Academy of Music over 6 years, and younger one started learning piano here two years ago. We have been very happy with our experiences here. Teachers are very professional and have passion in music. "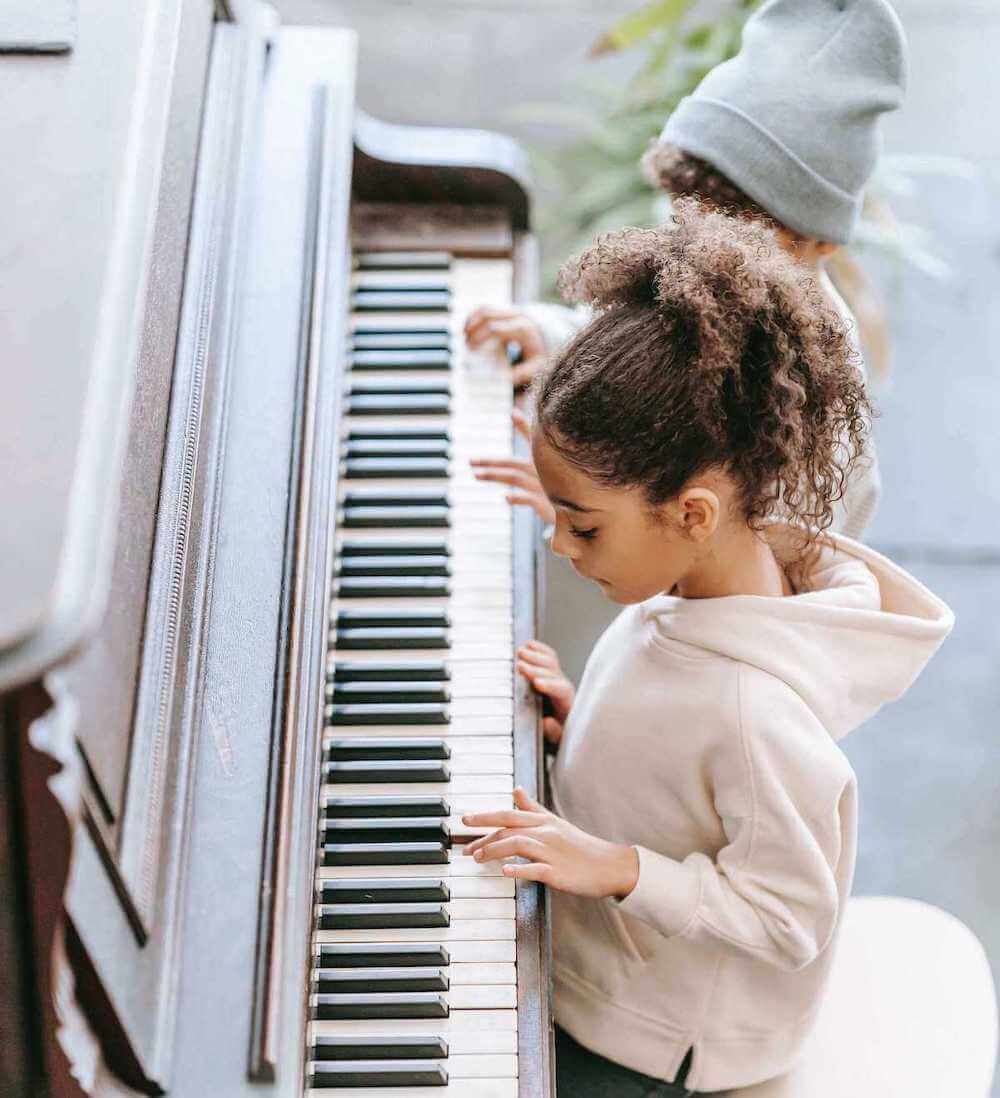 What you can expect
Tell us about your musical goals.
Match with one of our expert instructors.
Play music! Parents get progress reports.
What Age Should My Child Start Piano Lessons?
The minimum age we recommend a student start piano lessons at Melody Academy of Music is 5 years old. For younger students, we recommend an intro to the music program. Starting age will largely depend on the student when it comes to piano or keyboard. So, some students may need to wait longer than others to start. Contact us and we can help determine if your child is ready to start!
Why Take Piano Lessons at Melody Academy of Music?
Piano lessons in Melody Academy of Music provide teachers who instruct on a variety of styles from classical to popular music. Whether you want to learn Bach or Alicia Keys, our teachers are happy to help you become the pianist you want to be. Our piano faculty will show you the fundamentals of sight reading, technique and theory, but they will also incorporate your favorite songs into your lessons. You do not have to have a piano at home to take lessons. A simple electronic keyboard with a minimum of 61 keys will suffice for the first 6 months. Our piano teachers have warm personalities and enjoy sharing their love for the piano with you when you take piano lessons in Melody Academy of Music.
Our Piano Teachers
All of the teachers at Melody Academy of Music hold university degrees in music and are experts in their field. Our piano faculty have received their musical education from such prestigious institutions all over the country.
Do I Have to Know How to Read Music?
No. Beginners are welcome! Our lesson plans aim to educate, engage and inspire students.

Do I Need a Piano to Start Taking Lessons?
No. You do not need a piano to start piano lessons, however, we do recommend having a digital piano keyboard in your home to practice between lessons. Also, keyboards are much more economical and require less commitment upfront when it comes to ongoing maintenance and moving costs.
So, What Are You Waiting For?
If you're ready to jump into the world of keyboarding, we are excited to match you with a teacher that can get you started on your musical journey.
Nothing will enable you to progress more effectively than a one-on-one partnership with an inspiring piano professional.
Let us help you explore and build your abilities in a setting that is comfortable for you. You never know how far you can go until you take that first step, so get started today!
Fremont Music School Address
1972 Driscoll Road
Fremont, CA 94539
Hours
| | |
| --- | --- |
| Monday | 11:00 AM - 7:00 PM |
| Tuesday | 11:00 AM - 7:00 PM |
| Wednesday | 11:00 AM - 7:00 PM |
| Thursday | 11:00 AM - 7:00 PM |
| Friday | 11:00 AM - 5:00 PM |
| Saturday | 11:00 AM - 5:00 PM |
| Sunday | Closed |