Voice Lessons in Tampa, FL
Get in Touch and Start Learning!
Our Approach to Voice Lessons at Tampa Music School
Here at Tampa music school, we view voice lesson time as a partnership activity. While your instructor likely possesses more musical experience, it is their desire to listen and to nurture your personal musical expression.
A qualified voice teacher knows what to listen for and can often spot unhealthy habits that will save you from damage in the long term.
The key goal word within our music school is individuality. Our instructors would never try to force all voice students into the same mold. Lesson time will be devoted to goal setting and goal achievement within an atmosphere of freedom and creativity. While we strongly encourage freedom of individual performance, we also require a strong knowledge of the building blocks of musical production.
Did you know that anyone can sing? Everyone has the capacity for vocal technique and communication improvement. The human voice is perhaps the most unique of all the instruments. It allows for the most nuance, emotion and variation.
Tampa Music School employs only the best and most passionate vocal instructors whose sole purpose is to help you grow in your musicality, confidence and overall ability. Our teachers desire to pass on their love for singing to their students through engaging and creative one-on-one collaboration.
There is no preferred musical genre or style taught at Tampa Music School. Whether a student likes pop, Broadway, rock, R&B, spirituals or classical, everyone is encouraged to embrace their musical path. The only tools a student will need are a love for singing and a willingness to put in solid effort.
Voice Lessons Should Be Fun!
---
Finding your own voice is one of life's great pleasures – and learning how to use it makes that feeling even sweeter! At Tampa Music School, we want every student to LOVE their music lessons and find fulfillment in learning how to sing.
Our voice teachers create a positive and supportive learning environment where you can succeed, no matter your starting point or level of experience. Whether you are singing in a choir, a musical theatre ensemble, as a soloist, or just in the car, our experienced teachers can help you build confidence and have fun, while working on music you enjoy.
We Emphasize Healthy Technique
---
Singing may look simple enough, but the voice is a complex series of systems that form an expressive and delicate living instrument inside of each of us. Perhaps more than any other musical discipline, having an experienced voice teacher to assist you in training these processes to work together is key to healthy, lifelong enjoyment of singing.
Tampa Music School's highly-trained instructors will assist you in learning strong fundamentals including proper breathing, diction, resonance, stage presence, and non-verbal expression. We strive to ensure that our voice students become literate musicians, so lessons will also include discussions of music theory, history, and rhythm. Mastering these technical basics will broaden your horizons and allow you to explore many different styles and genres of music in the future!
We Care About Your Musical Interests & Goals
---
We teach all styles of singing, including musical theatre, classical, contemporary/pop, jazz, country, and folk. Your voice is unique – and therefore, your instruction should be, too. Whether you are a beginner, have some experience, or are an accomplished performer with a desire to further develop your skills, our teachers will provide customized guidance designed to advance your individual goals.
Learn from our experienced staff of professional singers and graduates from several prestigious musical programs. At Tampa Music School, we approach each lesson with a goal of inspiring creativity, instilling confidence, and exploring the dimensions of what your special voice can do.
Our Voice Teachers:
Our voice teachers are the best around when it comes to experience and passionate vocal instruction. They not only have immense skill in pedagogy, but they also have significant professional performance experience. Some have toured the world promoting their own music. Others regularly perform with illustrious music groups. These experiences give our teachers unique insight, which they pass on to their students.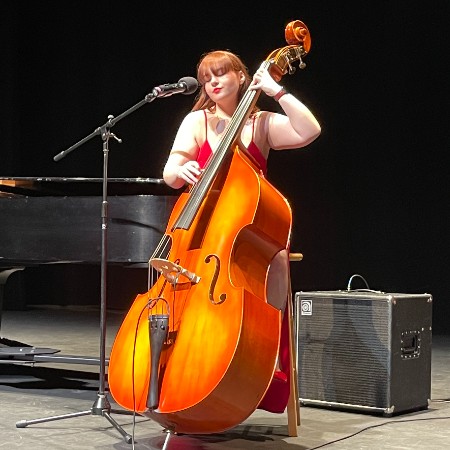 Bass & Voice
Classically trained since age six, Emma has had a passion for music for as long as she can remember. She has over seven years of on-stage performance experience. Emma is currently studying
Voice & Piano
Nicole Hoffer is an educator, performer, and composer from the Tampa Bay Area. Hoffer has taught guitar, bass, drums, piano and songwriting at local schools and privately. She is currently studying Vocal
Voice
Paige Sentianin, soprano, has been praised for her clear sound and "coquettish vivacity both in her acting and singing." Credits include Adela in the new opera Lottie Silks, Little Red in Cesar
Piano, Voice
Classically trained from the age of four, Grace prides herself on her well-rounded technique while maintaining a relaxed and easy style in many musical genres. Grace was accepted into the prestigious New
Piano & Voice
Hailing from Elkton, Maryland, Collin is a pianist, vocalist, composer, and producer around Tampa Bay. He began his musical journey learning piano at the age of six and has since acquired proficiency
Piano & Voice
Denver was born in The Woodlands, Texas and moved to Bangor, Maine when he was just 5 weeks old. There he discovered his love for piano and began taking classical lessons, which
We offer a variety of plans to fit your schedule & budget
Weekly 30 Min
$160
Month
Great for learning the basics and building strong foundations.
WEEKLY 60 MIN
$290
Month
Longer sessions, great for motivated, intermediate or advanced musicians.
What you can expect
1. Tell us about your musical goals.
2. Match with one of our expert instructors.
3. Play music! Parents get progress reports.
Common Questions
Barbara B. | Parent
"I have learned so much about working within a band. Matt has been very supportive of all members and has an obvious understanding of how each instrument within the band can be showcased and contribute to the overall sound. I'm very grateful I've found such a nice studio right in my community."
Start Your Musical Journey.