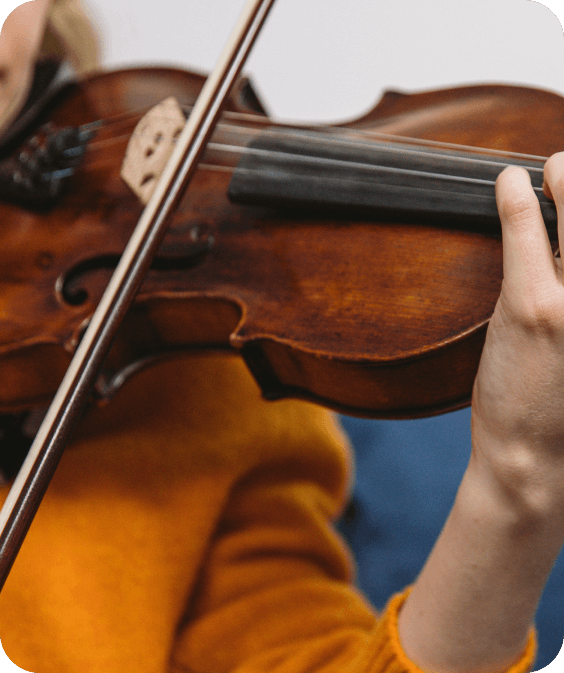 Violin & Viola Lessons in Pleasanton, CA
Our Approach
At New World Music Academy, anyone can learn to play the violin or viola 
Study a string instrument with our expert teachers who all hold university degrees in music. They structure private lessons around the student – working through repertoire from beginning to advanced levels.

We offer weekly lessons in violin, viola, and cello at beginning, intermediate, and advanced levels. Contact us to learn more about our strings program!
Our Approach to Violin & Viola Lessons
Violin & Viola Lessons Should Be Fun!
We pair the sophistication of these classic string instruments with an unwavering commitment to fun. We want each of our students to LOVE their music lessons.

Our teaching staff expertly blend a high standard of music education with a creative, student-focused approach that gives students space to discover and nurture their passion for music and the violin. Whether you're looking to pick up the instrument for the first time or want to earn the first chair in your orchestra, our teachers are ready to help you progress quickly toward your goals – while having fun along the way.
We Emphasize Healthy Technique
Strong fundamentals are key to efficient, effortless playing and optimal sound. We teach students essential instrument care and set-up, tuning, healthy playing posture, bowing, and hand positioning. Our skilled instructors also take students through regular ear training exercises to foster the development of good pitch.

Additionally, we strive to ensure our students become literate musicians through lessons in scales, music theory, rhythm, and sight-reading. More advanced students will build a broader repertoire of technique, including vibrato, double-stop and chord playing; more advanced bow strokes such as spiccato, sautillé, and up-bow staccato; and other higher-level musicianship concepts such as phrase analysis and score studying skills.
We Care About Your Musical Interests
We are delighted to work with students of all abilities seeking to enrich their lives through music. Our teachers take an individualized approach to each student – underpinned by detailed individual assessments, a thorough and logical sequence of skill development and training, and one-on-one guidance throughout your musical journey.

Your experience will be uniquely yours. Come and learn from our talented instructors, many of whom can connect you with performance and competitive opportunities, should you wish to pursue your craft on a larger stage.
Our Violin & Viola Teachers
"New World Music Academy has a professional and kind staff, with a wide range of lesson times that work with kids/parents schedules. "
"This is a best place for kids to learn music. Jacob is such a great teacher and very patient. Both of my girls took lessons with him for many years until they now moving into college. Thank you so much to Jacob and Lindsey!"
"Great newsletter – love the highlights and the tips of the trade (e.g. on buying your first guitar). Keep them coming!"
"We LOVE Mike! He is so patient with Lorne and inspired him to love music – he's interested now in drums but also piano and guitar! Thank you!"
We Offer Simple Pricing to Fit Your Schedule & Budget
Lesson
30 min
$45
Great for building a strong foundation.
GET STARTED
Lesson
45 min
$66
Fit for both beginners & intermediate students.
GET STARTED
Lesson
60 min
$85
Perfect for intermediate or advanced musicians.
GET STARTED
What you can expect
Tell us about your musical goals.
Match with one of our expert instructors.
Play music! Parents get progress reports.
What's a Good Age to Begin Violin or Viola Lessons?
Lessons for string instruments can begin at age 7. Adults are also welcome. Our students love learning the fundamentals, as well as incorporating their favorite songs into their lessons.
What size violin do I need?
Violins come in a variety of sizes. Our staff can help you choose which is best for you or your child.
Our Teachers
Our music teachers hold degrees and are experts who love to share their knowledge of music with others. They work closely with their students to develop an engaging lesson plan. You'll discover our string instructors will teach all styles of music, from learning to play by ear to reading music.
So, What Are You Waiting For?
If you're ready to jump into the world of violin, we are excited to match you with a teacher that can get you started on your musical journey. Nothing will enable you to progress more effectively than a one-on-one partnership with an inspiring violin professional.
What Makes Violin & Viola Lessons At New World Music Academy of Music Unique?
Our instructors have a fun, collaborative style that will inspire you and or your child throughout the learning and decision-making process.

The ideal teacher/student relationship is one in which the student can realize their musical goals. Our teachers are fully equipped to assist you in every aspect of your musical development. Our violin and viola instructors will teach all styles of music, from learning to play by ear to reading music.