Guitar & Ukulele Lessons in Pleasanton, CA
Get in Touch and Start Learning!
Guitar & Ukulele Lessons for All Ages & Musical Styles
Learning guitar & ukulele should be a fun process and something that students can enjoy for many years to come. That's why our guitar teachers teach songs and material that students like. From rock to jazz and pop, we teach all genres and styles.
We teach children through adult players and tailor each lesson to the student's goals and interests. Whether you are just starting out or if you are tired of trying to figure it out yourself on YouTube, we'll help you reach your goals.
If you live in the Pleasanton, CA area and are thinking about starting guitar or ukulele lessons, schedule a lesson with one of our awesome, professional teachers!
Build strength We Make Guitar Lessons Fun!
---
We all know the feeling: you hear your favorite song come on and you can't resist the urge to play along on your air guitar! Here at New World Music Academy, we can help you convert your musical fantasies into reality – while preserving that irresistible sense of joy you feel when playing along. We want each of our students to LOVE their musical experience with us!
Whether you come to us planning on becoming the next Jimi Hendrix or simply wanting to play songs around the campfire with your friends, our top-notch instructors will help you progress quickly toward your goals while ensuring you have fun along the way.
We Emphasize Healthy Technique
---
Regardless of your ultimate goals, our teachers will prioritize strong fundamentals including proper posture, hand positioning, chords, fretting, picking, and strumming. As students progress, these basics will become second nature – and serve as the foundation from which students can apply their skills across a variety of genres and styles.
We want our guitar students to be literate, well-rounded musicians. Beginners and seasoned performers alike will find value in our approach at New World Music Academy, coupling technical instruction with elements of music theory and music history in each lesson.
We Care About Your Musical Interests
---
Take ownership of your own musical style and grow your talents at New World Music Academy! Our dedicated instructors are committed to hearing your goals and helping you reach them. We pride ourselves on equipping each student with the tools they need to reach their fullest musical potential.
Creativity, self-discovery, and passion come to life at New World Music Academy. Whether your goal is to pursue the cello professionally in an orchestra or as a soloist, or just to play for your own personal enjoyment, your cello teacher will support you throughout your musical journey.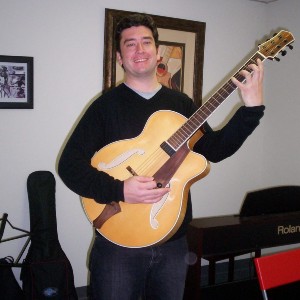 Drums, Guitar & Bass
Michael Ramos has taught guitar since 2000. He attended Monte Vista High School in Danville and received a degree from Harvard College in 2005. He has toured Japan, played at the Monterey
Guitar & Ukulele
Gary Allen is an accomplished musician, and a teacher of the acoustic and electric guitar, as well as the ukulele. He is also a published songwriter, and a member of ASCAP, Inc.
We Offer Simple Pricing to Fit Your Schedule & Budget
30 Min Lesson
$45
Great for building a strong foundation.
45 Min Lesson
$66
Fit for both beginners & intermediate students.
60 Min Lesson
$85
Perfect for intermediate or advanced musicians.
What you can expect
1. Together we explore student musical goals.
2.We match students with one of our expert instructors.
3.Start attending lessons! Parents can receive progress reports each week.
Common Questions from Other Parents
Reviews for New World Music Academy
Start Your Musical Journey.