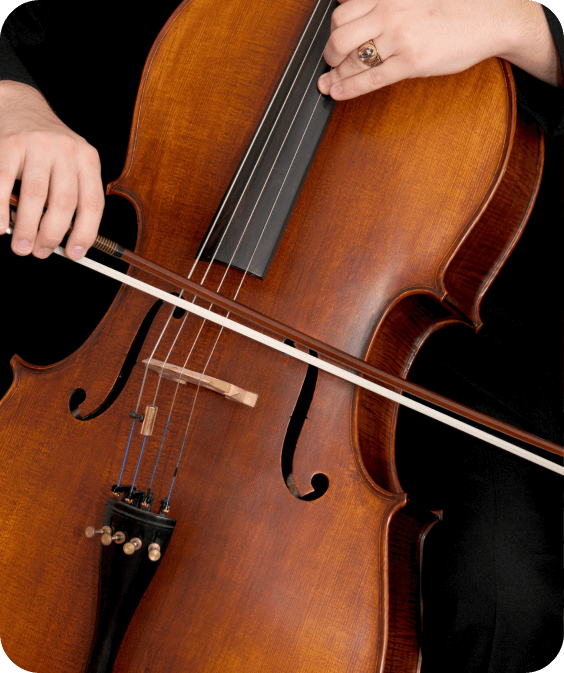 Cello Lessons in Pleasanton, CA
Our Approach
At New World Music Academy, anyone can learn to play the cello 
We fully acknowledge that each aspiring cellist is a unique individual. While it is true that everyone must begin in the same place, where you go from there is completely up to you. The flexible style of our instructors will foster your musical creativity, offering wisdom, and guiding your technique to levels of excellence. While the creative expression is strongly encouraged, we incorporate certain features across the board for all our students, especially in the beginning phases of instruction.
Our Approach to Cello Lessons
Cello Lessons Should Be Fun!
Don't let size intimidate you! The cello, known for its rich tone, is one of the largest yet most gratifying instruments to learn. Our cello program is founded on the basis of fun. We want all of our students to LOVE their cello lessons!

Our experienced instructors blend excellence in musical pedagogy with our focus on fun, helping you progress toward your goals. Whether you're a beginning cellist or a seasoned professional, we want each lesson to bring you a smile and leave you eager to return for more.
We Emphasize Healthy Technique
Regardless of your level of proficiency, our skilled instructors will work with you to develop healthy technique. We're as excited to teach strong fundamentals to beginners as we are to help experienced cellists further their relationship with the instrument. All our students will master the basics, including holding the cello and bow, generating beautiful tone, shifting, vibrato, and strong intonation.

We focus on fundamentals is complemented by our emphasis on music literacy, including music theory, sight reading, and ear training. Students will be able to effortlessly translate this well-rounded education into musical maturity, moving quickly toward their goals while learning how to bring nuance and style to their personal performance.
We Care About Your Musical Interests
Take ownership of your own musical style and grow your talents! Our dedicated instructors are committed to hearing your goals and helping you reach them. We pride ourselves on equipping each student with the tools they need to reach their fullest musical potential.

Whether your goal is to pursue the cello professionally in an orchestra or as a soloist, or just to play for your own personal enjoyment, your cello teacher will support you throughout your musical journey.
"New World Music Academy has a professional and kind staff, with a wide range of lesson times that work with kids/parents schedules. "
"This is a best place for kids to learn music. Jacob is such a great teacher and very patient. Both of my girls took lessons with him for many years until they now moving into college. Thank you so much to Jacob and Lindsey!"
"Great newsletter – love the highlights and the tips of the trade (e.g. on buying your first guitar). Keep them coming!"
"We LOVE Mike! He is so patient with Lorne and inspired him to love music – he's interested now in drums but also piano and guitar! Thank you!"
We Offer Simple Pricing to Fit Your Schedule & Budget
30 min
$45
per lesson
Great for building a strong foundation.
GET STARTED
45 min
$66
per lesson
Fit for both beginners & intermediate students.
GET STARTED
60 min
$85
per lesson
Perfect for intermediate or advanced musicians.
GET STARTED
What you can expect
Tell us about your musical goals.
Match with one of our expert instructors.
Play music! Parents get progress reports.
What Will I Learn in My Cello Lessons?
Our cello teachers understand that every student is an individual, with personal musical needs and goals. We make it a priority to tailor lessons to the individual.
When you enroll, the first thing your teacher will do is ask about your favorite type of music. Together, student and teacher set goals to help accomplish musical aspirations. We love beginners, so even if you don't know where to begin, we can help!
What Makes Cello Lessons at New Music Academy special?
Our instructors have a fun, collaborative style that will inspire you and or your child throughout the learning and decision-making process. 
The ideal teacher/student relationship is one in which the student can realize their musical goals. Our teachers are fully equipped to assist you in every aspect of your musical development. Our string instructors will teach all styles of music, from learning to play by ear to reading music.
Do I Have to Know How to Read Music?
No. All skill levels are welcome!
So what are you waiting for?
If you're ready to jump into the world of the cello, we are excited to match you with a teacher that can get you started on your musical journey. Nothing will enable you to progress more effectively than a one-on-one partnership with an inspiring cello professional.

Let us help you explore and build your abilities in a setting that is comfortable for you. You never know how far you can go until you take that first step, get started today!
What Ages Do You Teach Cello?
Students can be as young as 7 years old. Our students love learning the fundamentals, as well as incorporating their favorite songs into their lessons. If you choose cello, violin or viola lessons, you'll find our incredible teachers have friendly personalities and love working with children, teens and adults!