Piano Lessons in The Woodlands, TX
Get in Touch and Start Learning!
Our Approach to Piano Lessons at Lessons On The Go
We believe every student is unique and different in their own way. Therefore, why should lessons be any different? Each piano lesson is tailored to the individual student's specific interests and needs.
While focusing on foundational elements such as proper technique, reading music, finger position etc., our teachers also help students learn songs they are familiar with. This includes movie theme music, popular songs on the radio, their favorite classical artist etc. This helps keep students motivated and pushing further to learn each week.
The best part is, all of this takes place in your home, saving you tons of time!
Piano Lessons Should Be Fun!
---
We know that an interest in piano may be what first brings you into our school – but having fun is what keeps you coming back! Here at Lessons On The Go, our goal is for every student to LOVE their music lessons as they embark on a rewarding journey of progress and discovery. We put the "fun" in fundamentals!
Our knowledgeable staff blends a high standard of music education with a creative, student-focused approach that gives students space to discover and nurture their passion for music and the piano. Whether it's your first time at the keys or you're a seasoned pianist, our teachers are ready to help you progress quickly toward your goals – while having fun along the way.
We Emphasize Healthy Technique
---
Healthy technique is critical to lifelong enjoyment of the piano. Our first priority is teaching strong fundamentals, including hand, wrist and arm technique, bench position, and pedaling. We believe that full-body instruction is essential to musicianship and safeguards students from injury.
Once the fundamentals are in place, you and your teacher can craft the story you want your music to tell. Our qualified teachers will assist you in developing musicianship and exploring nuance through dynamics, pausing, phrasing, and varying tempos. Learn with us as we infuse elements of music theory and music history into our well-rounded approach to fostering musical excellence.
We Care About Your Musical Interests & Goals
---
There is no one-size-fits-all method of piano instruction. Regardless of ability or prior experience, our teachers take an individualized approach to each of our students – underpinned by detailed individual assessments, a personalized learning plan, and one-on-one guidance throughout your musical journey.
While fundamentals and technique are essential, our ultimate goal is to equip students to begin exploring their own personal musical style and interests. Your teacher will work with you to understand where you want to go, and craft a unique plan to get you there. Whether your style is classical or pop (or anything in between), Lessons On The Go helps students excel in their craft while encouraging the occasional step outside the comfort zone to try something new.
We Offer Simple Pricing to Fit Your Schedule & Budget
Weekly 30 Min
$160
4-pack of lessons
Great for basics and building strong foundations.
Weekly 45 Min
$235
4-pack of lessons
Great for the budding master.
Weekly 60 Min
$310
4-pack of lessons
Longer sessions, great for motivated musicians.
Individual Lessons
30 Minutes – $40
---
45 Minutes – $60
---
60 Minutes – $80
What you can expect
1. Together we explore student musical goals.
2.We match students with one of our expert instructors.
3.Start attending lessons! Parents can receive progress reports each week.
Common Questions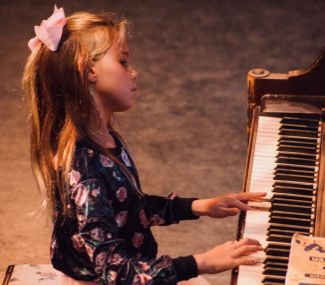 Brendan Champness | Parent
"We love "Lessons on the Go", they made everything so easy. The office staff are so friendly, helpful and efficient, nothing is too much trouble. They organized a lesson time that worked with our family schedule. Karen the kid's teacher is amazing and the kids just love her. They wait by the door for her to arrive each week, as they are so excited to have their lesson. Karen has such a lovely manner with both my children. We would highly recommend using "Lesson on the Go", as our kids really enjoy their music lessons and can't wait for the next one."
Start Your Musical Journey.