Personalized & Engaging Music Lessons for All Skill Levels
Music School Serving Rochester, MN

GET STARTED
Enrich your life: listen, learn, and perform.
Rochester Academy of Music was created to provide positive, memorable opportunities for students of all skill levels to explore their interest in music through a rewarding progression of discovery.
Learn More
 Let our teachers be your guide.
Our instructors are skilled artists themselves and experienced teachers that are committed to our students success and growth. Teaching is a conduit for our amazing staff to pass on their passion for music and the arts.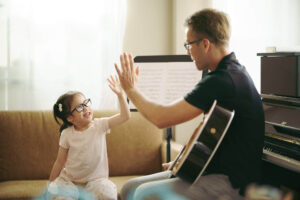 Guitar
We love Rochester!
It is a great Music School, My daughter and I enjoyed all classes 🙂
Violin
So glad we found you!
My daughter started learning the violin. Her teacher is great with children, she loves her lessons! I am glad we found the academy.
Incredible Staff
Very professional and heart-warming staff! Thank you for the great times we spend at your school! Highly recommended place and teacher(s)!
Great instruction!
I enjoy the lessons and appreciate the time that my instructor will take to explain a musical technique or concept that I do not understand.

Why is Rochester Academy of Music the #1 choice for you
Get Started
MORE instruments
No other music lesson provider teaches as many instruments as we do! With over twenty different instruments, you're sure to find a good match. Our versatile faculty can teach you or your child: piano, voice, guitar, drum set, bass  guitar, flute, clarinet, saxophone, trumpet, French horn, baritone horn, trombone, tuba, violin, viola, cello, string bass, band percussion, banjo and mandolin.  
MORE student recognition
We are the ONLY music school in southeastern Minnesota licensed to use the new, cutting-edge Musical Ladder System ®. Every three months, all of  our students take a test with their teacher for cool awards such as certificates, wristbands and trophies. All included in tuition! 
MORE learning opportunities
We are the ONLY music lesson provider in the area authorized to offer free, unlimited, one-hour music enrichment classes for when  students have to miss a regular, weekly lesson. Students may even make up their lessons before they go on vacation!
MORE ways to take lessons
Going away on vacation, or moving out of state? No problem! Take lessons via the latest technology Zoom at Rochester Academy of Music.
MORE safety
For your peace of mind, we are the SAFEST music school in the area! All teachers undergo a state, federal and national sex offender background check, in addition to a Social Security number verification. We have installed observation windows in each studio door. We have gone to the extent of installing  a security camera in each studio.
Welcoming you to music lessons in Rochester, Minnesota!
The Rochester Academy Of Music is the most complete music school in Rochester, Minnesota. We teach almost 200 students in a week, ranging in age from 5 to adults. If you want to learn an instrument, the chances are we teach it; we offer piano, guitar, drums, brass, woodwinds, voice, and ukulele for starters! We do this all in one location in NE Rochester.
We have the distinct honor to be endorsed by world-famous flutist Sir James Galway.
We offer private/one-on-one music lessons to get the most our of your lesson time.
GET STARTED
It's easy to take the first step!
If you are ready to start, you have nothing to lose as we only want students who truly want to be here and we will not commit you to a long-term contract. 

Enrollment is easy and parent-friendly, with helpful staff at the front desk to serve you. There are no long-term contracts, no complicated contracts, no annual material or performance fees, and no semester minimums.
Lessons are first come, first served, so contact us today to arrange your first lesson! Call or stop in person to pick a day and time for weekly lessons, set up billing on a credit card and sign the paperwork.