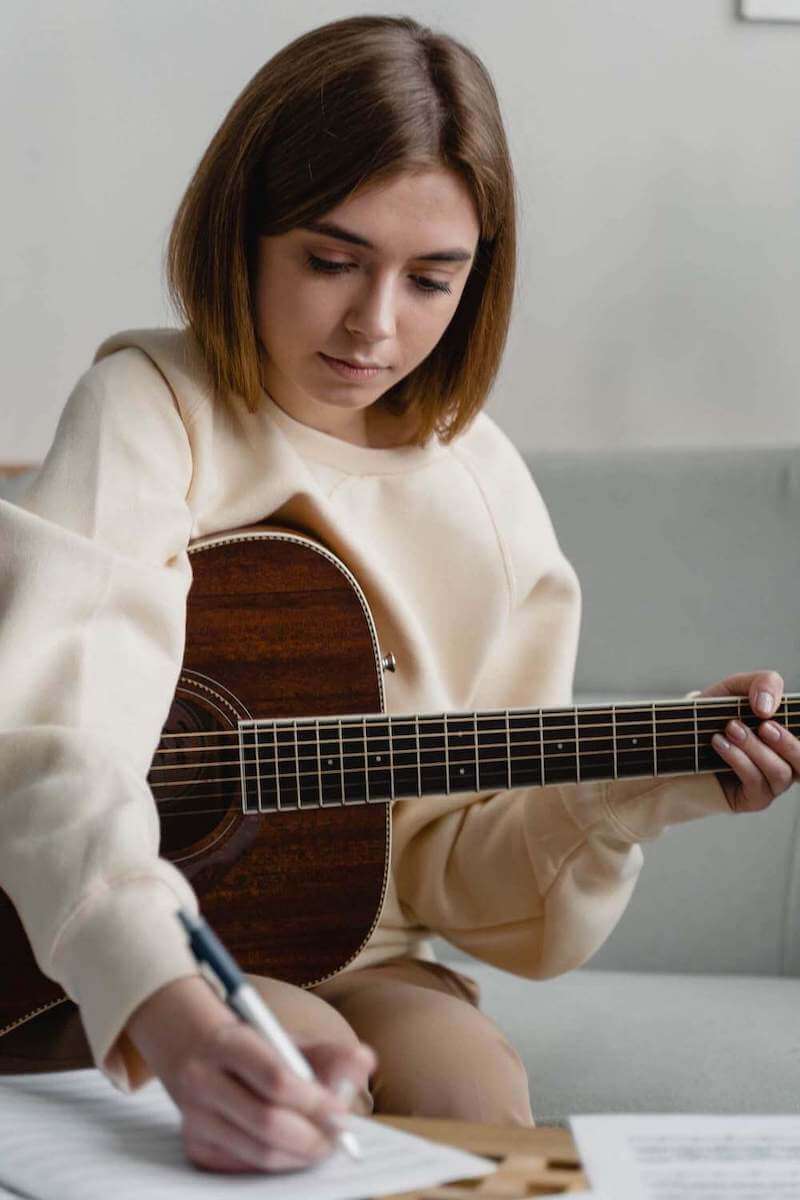 Guitar & Ukulele Lessons in Danville, CA
Guitar
Guitar & Ukulele Lessons for All Ages & Musical Styles
Learning guitar & ukulele should be a fun process and something that students can enjoy for many years to come. That's why our guitar teachers teach songs and material that students like. From rock to jazz and pop, we teach all genres and styles.

We teach children through adult players and tailor each lesson to the student's goals and interests. Whether you are just starting out or if you are tired of trying to figure it out yourself on YouTube, we'll help you reach your goals.
01 Build strength We Make Guitar Lessons Fun!
We all know the feeling: you hear your favorite song come on and you can't resist the urge to play along on your air guitar! Here at Reeder Music Academy, we can help you convert your musical fantasies into reality – while preserving that irresistible sense of joy you feel when playing along. We want each of our students to LOVE their musical experience with us!

Whether you come to us planning on becoming the next Jimi Hendrix or simply wanting to play songs around the campfire with your friends, our top-notch instructors will help you progress quickly toward your goals while ensuring you have fun along the way.
02 We Emphasize Healthy Technique
Regardless of your ultimate goals, our teachers will prioritize strong fundamentals including proper posture, hand positioning, chords, fretting, picking, and strumming. As students progress, these basics will become second nature – and serve as the foundation from which students can apply their skills across a variety of genres and styles.

We want our guitar students to be literate, well-rounded musicians. Beginners and seasoned performers alike will find value in our approach at Reeder Music Academy, coupling technical instruction with elements of music theory and music history in each lesson.
03 We Care About Your Musical Interests
Your unique interests and background will help guide your experience at Reeder Music Academy. We teach beginners, intermediate, and advanced students who are interested in a variety of styles – including rock, jazz, classical, pop, blues, and more. Whether you're inspired by modern day singer-songwriters or the rockers of the 1970s, we can't wait to get started with you!

Our seasoned instructors will draw upon years of playing, performing, and teaching experience to guide you in improving your skills and exploring the many possibilities of your instrument, and advancing toward your goals at a pace that works for you.
How it works
Together we explore student musical goals.
We match students with one of our expert instructors.
Start attending lessons! Parents can receive progress reports each week.
"This is the best place ever for music. The teachers are friendly and I learned so many new things about my instruments. I was pushed above and beyond and they helped me make it into my High Schools advanced band even though I was a Freshman. I highly recommend this place."
"Both my kids go for piano at this location. The teachers are very friendly and knowledgeable. The support staff is also very friendly and prompt."
"Awesome place to go to, Works as a shop and a school. Was able to get my Certificate of Merit there. Friendly staff there as well."
"James Mahoney is WONDERFUL. He is so great with young kids. He's fun, patient, gentle, great at refocusing and teaching."
"Many thanks to Jason, Jill, Terry, & Ray Hidrogo for their help & inspiration. You won't find a more professional & "in tune" crew anywhere else in the universe. Thanks guys!!!"
We Offer Simple Pricing to Fit
Your Schedule & Budget
Weekly
30 Min Lesson
$45
Lesson
$42 for families or multiple instruments
GET STARTED
Weekly
60 Min Lesson
$80
Lesson
$75 for families or multiple instruments
GET STARTED
What Age Should My Child Start Guitar Lessons?
The minimum age recommended for starting guitar lessons is 7 years old. Due to the thickness of the strings and fine motor skills needed to play the instrument, we do not recommend starting guitar any younger. For younger students, we recommend learning the ukulele. The minimum age we recommend a student start ukulele lessons is 5 years old. For younger students, we recommend an intro to music program. Starting age will largely depend on the student, some may need to wait longer than others depending on factors such as fine motor skills, attention span and overall interest in music.
Do I Need a Guitar/Ukulele to Start the Lessons?
Yes, you will need a guitar or ukulele to start the lessons. Without an instrument, you won't be able to practice between lessons and make weekly progress. If cost is a concern, good beginner guitars are inexpensive and most music stores have a 30-day return policy if it's not for you.
The #1 Reason to Study Guitar at Reeder Music Academy?
Our instructors are warm and friendly, and get to know each student and parent on a personal level. We work with you, or your child, to craft a lesson plan that fits individual needs and the student's favorite type of music. Whether you're playing in local bands, a seven year old taking their first lesson, or a fifty year old returning to the guitar after many years, we'll set goals to achieve your musical aspirations. We balance musicianship and fun by making sure that each lesson you are challenged with a new technical or theory concept, but always end with something fun such as your favorite riff or song. We use a variety of guitar method books to accomplish this and encourage students to bring CDs or their iPod, or iphone to their lesson to learn their favorite tunes. If you have an interest in ukulele, banjo, bass or mandolin lessons – we got you covered! Guitar lessons in Reeder Music Academy will have you rockin' in no time!
How Qualified are Your Guitar Instructors?
Our guitar and ukulele teachers have received their education from prestigious institutions all over the country. Each is highly qualified to teach and create personalized lesson plans for their students.
What Will I Learn from Guitar Lessons with Reeder Music Academy Teachers?
Beginner guitar students can expect to work on chords, simple songs and melodies, sight reading and theory. Our instructors balance musicianship and fun by making sure that each lesson presents a new technical challenges or theory concept, and ends with something fun, such as your favorite riff or song. We use a variety of guitar method books, and encourage students to bring their smartphone or CDs to their lesson to learn their favorite tunes. Our guitar teachers teach rock, blues, metal, country and classical guitar lessons on electric and acoustic guitars. Students have fun with guitar lessons at Reeder Music Academy! Beginner students can expect to work on chords, simple songs and melodies, sight reading and theory
Ready to Get Started?
We are ready to partner with you to help you become a more accomplished musician. We truly believe that consistent, compassionate private instruction is the key to your musical growth. We are happy to evaluate and discuss your interests, goals and plans!