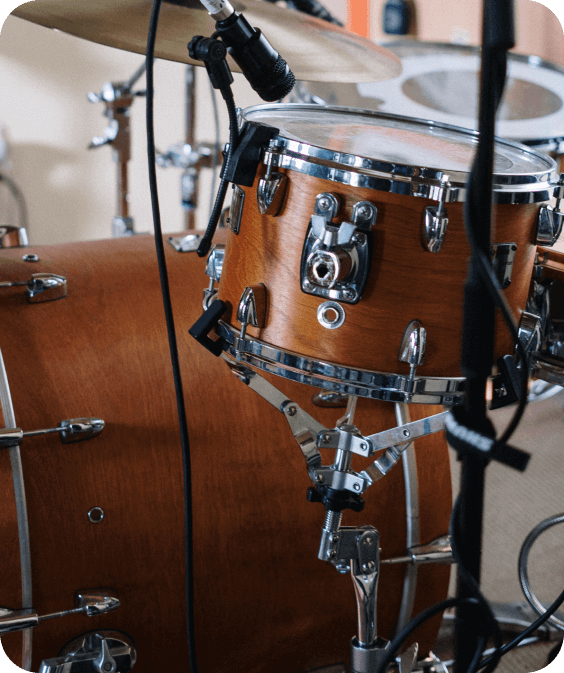 Drum and Percussion Lessons in Loveland, CO
Our Approach
At Loveland Academy, anyone can learn to play the drums 
We fully acknowledge that each aspiring drummer is a unique individual. While it is true that everyone must begin in the same place, where you go from there is completely up to you. The flexible style of our instructors will foster your musical creativity, offering wisdom, and guiding your technique to levels of excellence. While creative expression is strongly encouraged, we incorporate certain features across the board for all our students, especially in the beginning phases of instruction.
Our Approach to Drum Lessons
Drum Lessons Should Be Fun!
Few things in life are more satisfying than sitting down at a set of drums and playing your heart out. Students will find this unbridled joy in our drum lessons — fun is the centerpiece of our teaching philosophy.

We want our students to LOVE that feeling, whether it's their first or five-hundredth time on the throne (and yes, it's really called that!).
Whether your interest in the drums is currently an individual pursuit or you're already part of a band or ensemble, our passionate instructors are ready to help you progress quickly toward your goals while having fun doing it!
We Emphasize Healthy Technique
Our students can count on well-rounded instruction, rooted in proper technique. Working with a professional instructor, you will begin to master the fundamentals of drumming: a strong sense of pulse, how to control touch and tone, well-rounded drum vocabulary, ergonomic drum set configuration, good posture, healthy wrist action, four-limb independence, and efficient sticking patterns.

We strive to ensure that all of our drum students have a rich and varied lesson experience and become literate musicians. Students will be immersed in essential elements of music theory including rhythm and notation, and will gain exposure to the rich history of percussion.
We Care About Your Musical Interests
Our teachers pride themselves on helping you discover new ways of connecting with the instrument while also working on music you know and love. The world of drumming is wide and deep – but through our tailored instruction, we help you reach your goals, whatever they may be.

Are you a member of a jazz ensemble? We'll focus on swinging, dynamics, chart reading, and how to "kick" the band. Is your band hoping to be the next big country/rock/pop act? We'll focus on playing with power, steady grooving, and bread-and-butter fills. Perhaps you desire to be a virtuosic drummer who can move in and out of all sorts of styles? We'll help you identify the similarities and differences between them and navigate the precise skills needed for each.
We Offer Simple Pricing to Fit Your Schedule & Budget
Lessons
30 min
$130
Monthly
Great for building a strong foundation.
GET STARTED
Lessons
45 min
$195
Monthly
Fit for both beginners & intermediate students.
GET STARTED
Lessons
60 min
$260
Monthly
Perfect for intermediate or advanced musicians.
GET STARTED
"We have been with LAM for about 4 months and it has exceeded our expectations! Karen is extremely professional, yet so connected and kind with the kids. The kids' teachers are wonderful. Highly recommended–Thankful!"
"Our family would highly recommend Loveland Academy of Music. Our children love their lessons and never want to miss them. They look forward to seeing Miss Karen each week and sharing stories with her."
"Both of our kids are loving going here and learning music in ways the schools are unable to teach. The owner has done wonders in building this business from working out of her home to a dedicated building in downtown Loveland. Thank you!"
What you can expect
Tell us about your musical goals.
Match with one of our expert instructors.
Play music! Parents get progress reports.
What Is the Minimum Age to Start Drum Lessons?
We welcome students of all skill levels. While we create a positive and inspiring environment for all drum players, the minimum age we recommend a student start percussion lessons is 7. The term drum lessons can be very subjective as playing drums can mean anything from hand drums to a full drum set. Any students younger than 6 should focus on a hand drum or practice pad to learn rhythm and build up coordination.
Physical development is important since drum players must have dexterity, control, and motor skills as they learn rhythms and hold and maneuver the drum sticks. Drum students must also know how to count and have an adequate attention span for lessons and practice sessions. 
We welcome you to contact us and discuss your child's needs, interests and goals as you decide if your child is ready for drum lessons.
Do I Need to Own a Drum Set?
You do not have to purchase a drum kit to take lessons. Beginning students can learn with a drum pad, stand and sticks. Students use our drum set at their lessons and do not have to bring anything except their drum sticks and a notebook.
Do I Need Any Prior Drumming Experience?
Players of all skill levels benefit from drum lessons — you do not need any prior experience with drums or percussion. 

You may learn faster if you have previous exposure to percussion, understand rhythm, and can read music, but our teachers create customized lessons that allow you to learn foundational skills, develop advanced techniques and discover the joys of drumming.
What Styles of Drumming Can I Learn?
Our drum instructors teach rock, metal, jazz, funk, blues and many other styles. Drum language can be complex and our drum teachers will create a plan designed to improve your speed and comfort.
Are Drums the Right Instrument for Me?
We often think of drummers as people who like to pound on things. But drumming requires concentration, technical knowledge, physical stamina, and creativity. 

Listen to a variety of music styles and identify the percussion parts, or meet with a drum specialist as you decide if this instrument is a good fit for you. We are happy to help!
Ready to Get Started?
Contact us to begin your customized drum lessons. We prioritize your needs whether you want to hone your natural rhythm, land a spot in the marching band, or prepare to perform on stage. 

Discover how our balanced approach gives you the foundation and skills you need for success.