Piano Lessons in Los Angeles, CA
Get in Touch and Start Learning!
Our Approach to Piano Lessons
Piano lessons are offered on a one-on-one basis with our highly qualified teachers in your own home or online. During private music lessons, the student will develop a plan for individual learning with their teachers.
Each teacher will work with the students to come up with repertoire suitable for their optimum learning. Some students excel at classical learning, studying the masters from all time periods of music (Bach, Beethoven, Mozart, etc.). Other students wish to integrate elements of pop music, church music, jazz music, or all of the above!
Piano Lessons Should Be Fun!
---
We know that an interest in piano may be what first brings you into our school – but having fun is what keeps you coming back! Here at Kidz Create Music, our goal is for every student to LOVE their music lessons as they embark on a rewarding journey of progress and discovery. We put the "fun" in fundamentals!
Our knowledgeable staff blends a high standard of music education with a creative, student-focused approach that gives students space to discover and nurture their passion for music and the piano. Whether it's your first time at the keys or you're a seasoned pianist, our teachers are ready to help you progress quickly toward your goals – while having fun along the way.
We Emphasize Healthy Technique
---
Healthy technique is critical to lifelong enjoyment of the piano. Our first priority is teaching strong fundamentals, including hand, wrist and arm technique, bench position, and pedaling. We believe that full-body instruction is essential to musicianship and safeguards students from injury.
Once the fundamentals are in place, you and your teacher can craft the story you want your music to tell. Our qualified teachers will assist you in developing musicianship and exploring nuance through dynamics, pausing, phrasing, and varying tempos. Learn with us as we infuse elements of music theory and music history into our well-rounded approach to fostering musical excellence.
We Care About Your Musical Interests
---
There is no one-size-fits-all method of piano instruction. Regardless of ability or prior experience, our teachers take an individualized approach to each of our students – underpinned by detailed individual assessments, a personalized learning plan, and one-on-one guidance throughout your musical journey.
While fundamentals and technique are essential, our ultimate goal is to equip students to begin exploring their own personal musical style and interests. Your teacher will work with you to understand where you want to go, and craft a unique plan to get you there. Whether your style is classical or pop (or anything in between), Kidz Create Music helps students excel in their craft while encouraging the occasional step outside the comfort zone to try something new.
Our Piano Teachers:
Students will learn music reading, performance skills, improvisation skills, and theory skills.
We work individually with each family to understand their child's musical needs. Our philosophy is that each child's musical tastes and aptitudes are unique
Each lesson plan is created by your instructor and catered to you, or your child's specific needs. Our in-home lessons in and around Glendale are unique in that we offer a high quality lesson experience that also provides you with the convenience of time saved driving and waiting.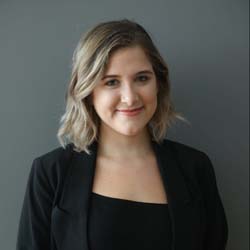 Piano, Voice & Guitar
Starting lessons as soon as she could talk, Sophie has always had a passion for music. After growing up in Denver and graduating at the top of her class with an International
Piano & Voice
Matthew is a formerly signed Independent artist based out of Los Angeles, CA. Spending his formative years in Morocco with his Norwegian-American father and his African
Online Piano, Guitar & Drums
Matt is a piano, guitar, and drums instructor as well as a composer and arranger. He has scored over 20 films as well as TV shows, web series, commercials, and jingles. His
Piano, Violin, & Voice
Dominique Vance is a former child prodigy who holds a B.A. in Violin Performance from Carnegie Mellon University with a double major in Business Administration, as well as a law degree from Pace
Piano, Guitar & Harp
Chris was born and raised in Austin, Texas where he started learning piano at the age of 5, harp at the age of 7, and drums at the age of 12. He
Voice & Piano
In his youth in southeast Nebraska, Douglas excelled in classical piano studies, continuing at the University of Kansas and the University of Utah receiving his degree in Music
Piano & Violin
Originally from Fürth, Germany, John studied piano from a young age and won prizes at the Nuremberg Piano Competition and other regional events. As a violinist, he
We offer multiple plans and lesson options
Monthly In-Home Lessons
Each package includes four in-home lessons
| Lesson Length | Monthly Cost (4 Lessons) |
| --- | --- |
| 30 Minutes (for very young folks) | $228 month |
| 45 Minutes (for older kids) | $312 month |
| 60 Minutes (for adults & teens) | $396 month |
We have a one-time registration fee of $40
Monthly Online Lessons
Online (virtual) lessons are via live video (ie. Zoom, Skype, Facetime).
Each package includes four online lessons
| Lesson Length | Monthly Cost (4 Lessons) |
| --- | --- |
| 30 Minutes (for very young folks) | $188 month |
| 45 Minutes (for older kids) | $252 month |
| 60 Minutes (for adults & teens) | $296 month |
We have a one-time registration fee of $40
Monthly Studio Lessons
With studio lessons, students go to their teacher's location
Each package includes four studio lessons
| Lesson Length | Monthly Cost (4 Lessons) |
| --- | --- |
| 30 Minutes (for very young folks) | $188 month |
| 45 Minutes (for older kids) | $252 month |
| 60 Minutes (for adults & teens) | $296 month |
We have a one-time registration fee of $40
What you can expect
1. Tell us about your musical goals.
2. Match with one of our expert instructors.
3. Play music! Parents get progress reports.
Common Questions
Rex H. | Parent
"My family and I used this music school for a year and a half and the kids really enjoyed the teachers we had for piano and voice lessons (singing). Both teachers Dante and Michael were very patient and great teachers that inspired both our kids in the world of music. We often found our kids playing the piano on their own, not because we asked them, but because they enjoyed music. The teachers were punctual and followed the curriculum of the school. We also enjoyed the recitals planned by the school."
Start Your Musical Journey.