Practice Apps for Musicians
There are apps for everything these days. From tracking your water intake, to organizing your finances, to reminding you to meditate, smartphone apps are there to help make things easier in any part of life. For musicians, practicing our craft is a significant part of daily life.
With the constant integration of performing music and modern technology, it isn't surprising that there are now a handful of apps for musicians. The apps help track practice time and practice schedule.
Can these apps actually help us to maintain our practice habits, or even boost the effectiveness of our practice sessions?
Being willing to try anything to make the process or habit of practicing better, I tried out two practice apps this month: Modacity and Instrumentive. Much like the dozens of other smartphone apps we each carry in our pockets, the music practice apps find unique ways to track practice habits and to help streamline the process of practicing.
Modacity: Music Practice App
When using Modacity, you create lists of "practice items", and as you practice a particular item, the timer keeps track of the time you spend on it. In the practice session, you have the option to record yourself and to use a built-in metronome, or "metrodrone", a combination of a metronome and drone.
Using the free version, you can add a limited number of notes to each practice item.
Unique Features
The most unique feature here is the Deliberate Practice button. When you press the Deliberate Practice button, you are presented with a number of categories of things to improve on. You select one of those categories, and then you get a list of options of strategies to choose to improve this area. Then it gives you the opportunity to practice that, prompting you to record yourself using your strategy if you want to.
After that, it asks you "did you improve?" If "yes", you have the chance to move on to something else, or keep doing what you were doing. If "no", it lets you go back to the list of strategies to choose a different one.
You can do all this with the free version of Modacity; in Modacity Premium, for $8.99 per month (or a free 14-day trial), you can add unlimited notes to practice items, see your practice statistics, and a detailed full history log of your practice.
Benefits of Modacity
Overall, this app forces you to pay attention, structure your practice, and set specific musical goals. For a musician like myself, for whom deliberate practice doesn't always come naturally, this can be an incredibly helpful tool. It helps you practice practicing. Even if the app is only used for a small fraction of your practice time, it is likely to benefit the rest of your session.
I believe the best quality of Modacity is that it encourages you to record yourself for a very specific goal, whatever it may be. It encourages you to record small amounts of music, helping you to focus on a short passage rather than on a whole piece.
The Deliberate Practice tool simplifies the process of deliberate practice, something we strive to do each time we practice. But can be overwhelming and exhausting to be constantly identifying specific goals and take specific actions that will lead us to them, and hard to know where to start.
Their idea with this "Improve" button is that you can simply press a button and you will improve; while this may be an oversimplification of the process, this is ultimately what happens: the prompts steer you in the right general direction to set a deliberate goal and make an improvement.
I could see this app being particularly helpful in situations where one has limited practice time, is distracted, busy, overwhelmed, or having trouble focusing. In those times, it can be hard to practice at all, and if you do practice, the practice can be unfocused, offering little to no benefit.
Modacity guides you when you can't guide yourself. In certain circumstances, I could see this app being the difference between a distracted or non-existent practice session and a productive one. It can also help in a situation where there is a large volume of material to learn in a compressed timeframe. With an audition coming up, or having a number of gigs at the same time, it is easy to become overwhelmed; Modacity could help with organizing one's practice time.
The system of practice lists makes it easy to organize repertoire into different lists and prioritize what to focus on.
Instrumentive Music Journal App
Instrumentive's design is quite similar to Modacity's. The lists of practice items and the practice sessions work in the exact same way. Instrumentive also allows you to record yourself within any session, lets you record notes, and use an integrated metronome. It also tracks your practice habits over time. Instrumentive costs $1.99 per month after a 30-day free trial.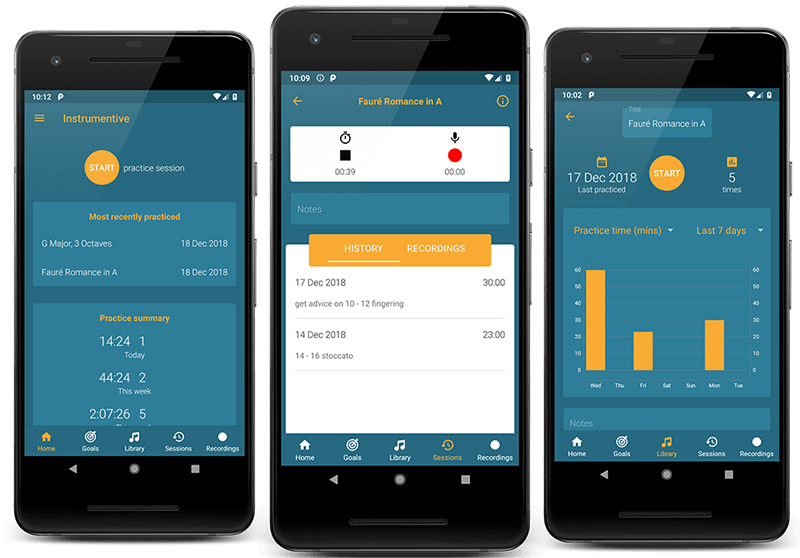 On the home screen of Instrumentive, the first thing it shows below the "start practice session" button is your practice goal (either number of times per week or hours per week), which it prompts you to set when you first start using the app.
Below that is a list of the recent items practiced, then a summary of the recent practice times logged, and below that, a chart showing the aggregate practice time, or number of sessions, over the last 7 days, 30 days, year, or all time.
For the musician prone to obsessing over the time spent practicing, you might think using Instrumentive will hang you up on the statistics. This could detract from the level of focus during practice. However, I could see a major advantage to using this app for a few weeks or a month at a time in order to set a goal for a practice schedule, and practice sticking to it.
Unique Features
Overall, the main difference between the two apps is that Instrumentive seems to have more of a focus on building the habit of practicing and tracking the time spent practicing, and Modacity has more of a focus on the content of practice and the improvements made. Both are important!
What makes the true difference is the work you do during your practice session, and there's no way to have a great practice session if you're not practicing at all. (Don't convince yourself you are practicing improvisation!) It all depends on your goals and needs. I could see either of these apps having a place in my practice routines.
Practicing involves overcoming a great deal of mental hurdles. It's not easy to be specific, critical, and intensely focused while problem-solving for hours at a time. When time is limited, it can be hard to optimize. Much like other apps–the tracking water intake ones, the meditation trackers, the finance trackers–these music practice apps can help simplify a part of life by addressing some difficult hurdles we all face.
Identifying specific goals and steps to improve takes a level of focus and mental energy that we don't always have in every single practice session. An app like Modacity can act as a guide, someone to tell us what to do when we may be too tired or distracted to do it for ourselves.
Also, life gets hectic and overwhelming, and the thought of setting and meeting a goal to practice for a certain amount of time every week seems impossible.
Benefits of Instrumentive
An app like Instrumentive can streamline the process of setting goals for practice habits and help you stick to them. These apps take a bit of the guesswork out of an important task so that we can focus on what's most important. Any musician would be able to benefit from a practice app, whether they use it all the time or every once in a while.
Remember, now is the time to lean into discomfort, so if you've long held a dream of rocking out on the clarinet or guitar, now's your chance! Find an Ensemble Music School near you to get started and connect with one of our experienced instructors, who can take your retirement music journey to new heights.
Author: Charlotte Ullman
B.M. Carnegie Mellon University, M.M. Southern Methodist University. Charlotte Ullman is a cellist and educator based in Chicago, IL. An active orchestral and chamber musician in the Chicago area, Charlotte is a member of the Civic Orchestra of Chicago.
In 2020, Charlotte earned an advanced certificate in cello performance from Bard College Conservatory, studying under Peter Wiley. While studying at Bard, she performed actively with orchestras including The Orchestra Now and the Albany Symphony Orchestra. While earning her Master's degree in cello performance from Southern Methodist University, studying under Andrés Díaz, Charlotte performed in orchestras including the San Angelo Symphony Orchestra, and performed often as a chamber musician around Dallas and in several concerts alongside the Escher String Quartet.
Charlotte currently teaches cello at the Christopher Laughlin School of Music in Northbrook, Illinois.