How an Awesome Teacher can Jumpstart your Musical Progress
Private Lessons vs. YouTube
For anyone who wants to learn to play a musical instrument, there are plenty of online resources available. If you want to pick up, say, a guitar and learn to play you can find videos online with tutorials on how to tune your guitar, how to play basic chords, and how to play specific songs that you might be interested in. Similar resources are available for piano and just about any other instrument. Some of these videos are very well made and thoughtful, and can be useful.
So with all of these resources at your fingertips, is it really necessary to take lessons with a teacher? I think the answer is a resounding yes for many reasons, some obvious and some subtle. Let's start with the obvious:
Technique
It is hard to imagine that anyone would find it enjoyable to play an instrument poorly, but without learning the technical fundamentals it is almost impossible to play with good sound and accuracy. I've heard sentiments expressed such as "I don't really want to learn technique, I just want to play for fun," but realistically, you can't.
Good playing technique almost never comes naturally, and understanding the importance of having good technique is often beyond the imagination of those who don't have it. There is a lot of awkwardness when one first starts learning to play an instrument. The movements of the hands and fingers tend to be tense, inefficient, and hard to control. It takes a lot of time and many stages of development to acquire good technique.
A beginning student must contend with many difficult concepts simultaneously – note reading, rhythm, fingering, and technique – and it is just too difficult to navigate all of that without the guidance and supervision of a qualified teacher.
Sound
Even for an experienced musician, it can be hard to hear yourself objectively. When you are singing or practicing an instrument you might be out of tune, or be producing an unpleasant tone with lots of unwelcome extra-musical sounds – buzzes, squeaks, etc. In our practice, we often subconsciously learn to filter out these unwelcome sounds, even if they would be quite noticeable to a listener. A teacher can help you just by hearing the obvious and giving you the tools and techniques you need to refine your sound.
Consistent Practice
Learning to play an instrument well takes countless hours of practice, and it is very hard to get those hours in unless you keep a consistent schedule of daily or near-daily practice. Having a standing weekly appointment with a teacher is a great motivator to keep to a consistent practice schedule.
Now for the subtle:
Understanding Music (Music Theory)
There are many complexities in music. Musical notation, rhythm, keys, scales, chord functions, and musical styles are all concepts that can take a long time to understand. Since much of this information is objective it could be learned by self-study, but learning these skills in the context of a private music lesson is much more effective.
A good teacher will introduce music theory concepts to the student in a progressive and organized way so that each skill can be understood and mastered, and applied to the repertoire that the student is learning. A music theory concept such as chord functions can seem abstract and hard to understand until you see those chord functions at work in the pieces you are playing.
Musicianship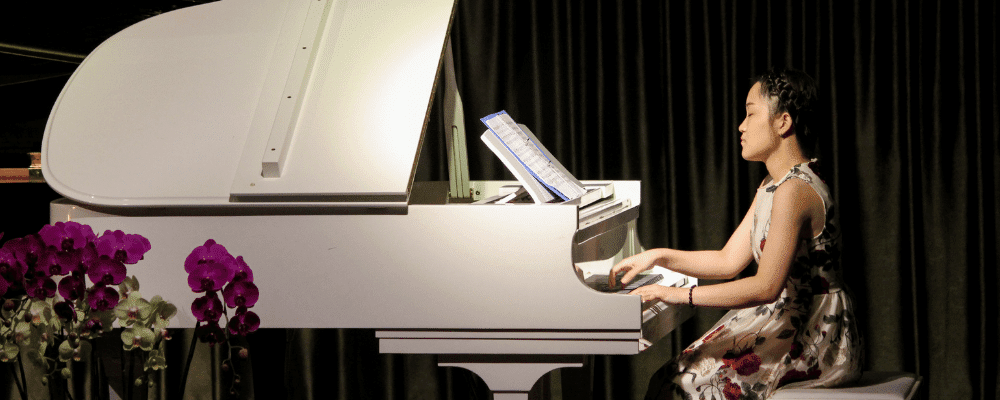 In order to play music in a way that is enjoyable and meaningful to a listener it must be played with expression and good musical values. All of the elements of music – pitch, rhythm, harmony, phrasing, tone – have to work together to make the music pleasing. An inexperienced musician is unlikely to understand the importance of this convergence. Without the feedback of an instructor it is difficult to put all of the elements of the music together into a coherent whole.
Accountability
The discipline of the weekly lesson serves to not only encourage daily practice, but to sharpen the focus of that practice as well. Learning to play an instrument is really about learning to perform. Even students who do not aspire to perform in public should still strive to play competently. It is not unlike taking up a pastime such as golf – you may not wish to play tournaments, but if you are going to play a round you want to strike the ball well and make functional shots.
From my experience as a music student I know that each lesson is like a mini concert. Every week I would go into my lesson knowing that the music I was working on would have to be performed in a musically sound way. This taught me to continually ask myself "is the practicing I'm doing right now preparing me to perform this piece confidently?" Without having a teacher to be accountable to it is hard to maintain that mindset.
Encouragement
A music teacher is more than just a resource of information. A good teacher knows how to provide encouragement when it is most needed. Over time your teacher will get to know you, how you learn, what music you like, and what pace you are comfortable with. Opening yourself up to others through your music can be intimidating, but having a mentor you trust can help build your confidence, and help you become the musician you aspire to be.
In Conclusion
Learning to play a musical instrument is a long journey, which is most enjoyable if taken with a guide. Ensemble Music Schools' faculty and staff are ready and able to provide the expertise, guidance, and encouragement you need to reach your musical potential.
If you do, however, still wish to follow a course of self study, consider this quote from Sir Roger L'Estrange in 1692:
"He that Teaches Himself has a Fool to his Master."
Author: Christopher Laughlin
Christopher Laughlin is the Program Director and guitar instructor at the Christopher Laughlin School of Music in Northbrook, IL. He earned his M.M in guitar performance at Yale University, and a B.M. in guitar performance from the Peabody Institute of The Johns Hopkins University.
Christopher has performed extensively across North America and around the world. He has toured in 25 countries on five continents, performing in Portugal, Greece, Morocco, Egypt, Israel, Jordan, India, Nepal, the Philippines, Singapore, Thailand, Austria, Yugoslavia, Romania, The Czech Republic, Ghana, Cameroon, Bolivia, and many others. He has made two recordings for Peregrine Records, Danza!, and Simplicio.
After finishing his graduate studies Christopher was awarded a Fulbright Grant for study in Paris with Uruguayan guitarist Betho Davezac, continuing his studies for a second year with a grant from the French government. Christopher has won prizes in two international competitions, the Concours International de Guitar in Sable-sur-Sarthe, France, and the Concours International de l'U.F.A.M. in Paris.